Ron Shelton is the Wheelhouse's bike tech, and besides being meticulous as a mechanic (and a leather-worker and bag-maker), he pops up now and again with an awesome alley cat race. Check out Model D's coverage of the scavenger hunts.
Since 2006, Shelton has organized Alleycats in Detroit. These unsanctioned cycling races draw riders from throughout the metro area to compete in a crisscrossing sprint down streets and through intersections. Participants fly from checkpoint to checkpoint, collecting clues and directions to their next destination while dodging cars and other riders. The course tests both the riders' knowledge of the city and their guts as they navigate a virtual collision course that backtracks and veers over 35 miles.
"Over the past several years, I've seen an increase in bikers in the city," says Shelton. "Maybe it's the price of gas but it used to be that if I saw someone riding a bike in Detroit, I probably knew them. Today, more people are riding but we're still not at capacity and I think there's potential here. As a biking town, Detroit is ready to explode."
We are particularly fond of the photo of Ron with our favorite shop ducky helmet looking super-tough.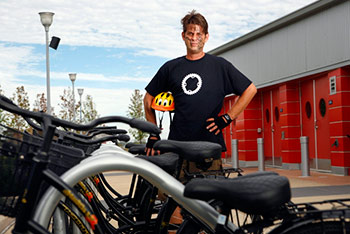 Read the entire article here.